SEO (Search engine optimization) is a competitive field, and to leapfrog your competition, you'll need the best SEO tools in the industry to help you promote your business or company. thankfully there are plenty of these tools today to help us stay on the right track. we have compiled a list of SEO tools from SEO experts so you can decide which one will suit you best. in any case, we recommend using several as it will give you a serious advantage.
List Of SEO Tools From SEO Experts.
Ubersuggest.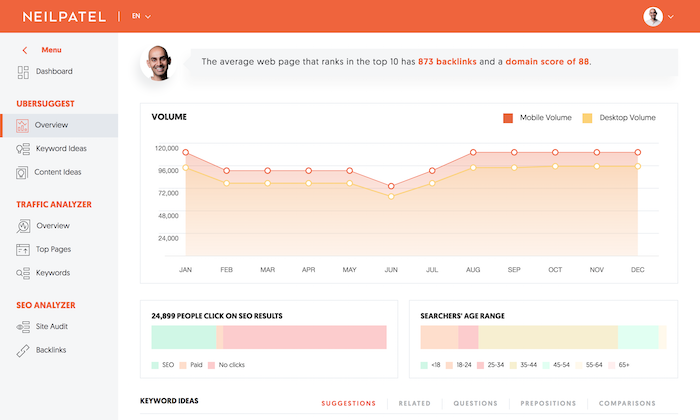 Ubersugget is a very useful and powerful SEO tool, which we can use to help us find the search volume of a specific keyword in Google's search engine. using this tool you will also be able to find CPC, competition data, keyword ideas, and the average age range of people looking for the specific keyword.
Ubersuggest also has a free chrome extension for quick and easy access. it is an amazing tool that we highly recommend to try for yourself.
Ahrefs.
Ahrefs is one of the leading SEO tools in the industry due to its many valuable features. with Ahrefs you will see exactly what part of your website needs your attention to reach the highest results in the Google search engine. view competitors' backlinks to incorporate into your own business strategy, and see the most searched content in your specific niche. also, manage your site's broken links and most traffic-oriented pages. 
Google search console. 
Google search console is a top SEO tool that is offered for free for everyone. for you to be able to use this tool you'll need to verify your website by submitting your sitemap for indexing or adding a code to your site. using this SEO tool you can manage how Google views your website and how you can best represent yourself in the search engine. we recommend this tool especially for beginners since it lets you submit web pages for indexing. 
Majestic.
One of the leading SEO marketing tools is Majestic. which specializes in marketing websites and uses many useful features such as, Site Explorer which allows you to overview your site, see how many backlinks you have, observe how highly you rank, and how we can improve our online activity to generate more traffic and eventually rank higher in Google search engine. in addition, it has a keyword analysis feature and competitor site comparisons.
SEMRush.
SEMRush is another highly regarded SEO tool by SEO experts for its quality and features. the most popular one is domain comparison, which lets you view how your website compares to your competitors. using SEMRush you'll receive data analysis, traffic, search data, and search your competitors' activity to incorporate into your business strategy and rank as best as you can in the Google search engine.
Answer The Public.
Answer The Public is a unique SEO tool, by searching for a keyword you'll receive not only the search results but also the most commonly searched sentences using your keyword. this allows us to find content ideas for our site and locate which niche works best for our topic. Answer The Public will also send you new suggestions for specific terms you have searched before directly to your email so you will always have new ideas to work on. 
We hope these SEO tools will help you in your business and be sure to check out more of our content right here! 
 How To Exploit The Arbitrage Opportunity
Account Based Marketing – Everything You Have To Know About It